Reloadable and contact-free
The BADGEO smart card is your key to enter the CTS network.
You can load all your travel tickets onto it, whether single journeys or travelcards, so that they can follow you wherever you go
However you travel and at whatever frequency, start by applying for your BADGEO smart card.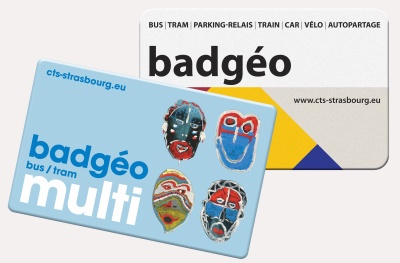 What you'll need :
an identity document
a passport photo
For first-time applications in a sales office: €5 or €2 for Badgéo Multi and the application form
For first time applications by post: the application form
Order your BADGEO card online with or without travel tickets: create your customer account here, sign in and go to "Order a Badgéo card".
You will be required to scan a passport photo, an identity document and, where relevant, proof of entitlement to concessionary fares. A credit card is also necessary to pay for the smart card and/or for the travel tickets you order. If you want to pay for a monthly travelcard by direct debit, you will also need a bank details statement (relevé d'identité bancaire).
HANDY HINT :
At the same time as applying for your BADGEO, tick the box during your online order to obtain a badge reader (5€) so that you can top up your card with tickets and travelcards online in the section "Top up a Badgéo card".
You can also buy the badge reader (Price 5 €) at the CTS Shop located 9 place Saint-Pierre-Le-Vieux in Strasbourg - Tram B/F - station Alt Winmärik.
Good to know:
Make sure you load next month's travelpass well in advance and/or a book of tickets as well as your travelcard. It may come in handy when your travelcard expires.



Check your account balance at any time: either at a ticket machine or in your online account.



Make sure you validate your smart card each time you get on a bus or a tram, including when you change. To do so, hold your smart card in front of the reader for a couple of seconds. You will hear a beep and see a green light to confirm your validation.



If you use one-way tickets on your card, they are only debited the first time they are used. Successive validations when you change will not debit the card for an hour following the first validation.



If your card stops working, have it checked in the CTS sales office.



In the event of loss or theft, go to the CTS sales office at the Alt Winmärik tram stop, where we will block your card to make it unusable. You will then be able to obtain a duplicate of your card with the totality of its contents at the date of your declaration in return for a fee of €7 (provide a photo and proof of identity). You can also apply for a copy online. To do so, create your customer account here, sign in and go to the section "Request for a duplicate"