---
CHAIRMAN
Patrick MACIEJEWSKI
Councillor of EMS
Deputy Mayor of Schiltigheim

CHIEF EXECUTIVE
Emmanuel AUNEAU

VICE-PRÉSIDENTS
Alain JUND
Vice-Chairman of EMS
City councillor of Strasbourg

DIRECTORS REPRESENTING EUROMETROPOLE DE STRASBOURG (EMS)
Pia IMBS
Chairman of EMS
Mayor of Holtzheim
Béatrice BULOU
Vice-Chairman of EMS
Mayor of Mundolsheim

Jeanne BARSEGHIAN
1st Vice-Chairman of EMS
Mayor of Strasbourg

Pierre PERRIN
Councillor of EMS
Mayor of Souffelweyersheim

Michèle LECKLER
Councillor of EMS
Mayor of Plobsheim

Anne Pernelle RICHARDOT
Councillor of EMS
City councillor of Strasbourg
DIRECTORS REPRESENTING THE GRAND EST REGION 
Régine ALOIRD
Region Councillor  
Evelyne ISINGER
Region Councillor  
DIRECTORS REPRESENTING THE CTS EMPLOYEES 
Élisabeth KIEFFER
Employee of the CTS
Giuseppe DI FORTI
Employee of the CTS
CENSORS
City of Strasbourg
City of Kehl
Department council of Bas-Rhin
Caisse des Dépôts et consignation
Representative of Keolis
---

 The Eurométropole is responsible for establishing transport policy. As Public Transport Authority, it decides on the transport service offer (routes, frequencies) and fares, which are approved by vote every year at a Eurométropole council meeting. 
As operator, CTS is in charge of the day-to-day management of the public transport service within the terms of the concession contract. It can also make proactive recommendations to the Eurométropole and offers its transport expertise.

The Eurométropole carries out the preliminary design studies for line extensions and provides CTS with the necessary rights of way. It is the specific prime contractor for road works and landscaping works.
It also approves the investment renewal programme (infrastructure and rolling stock).

CTS is delegated contracting authority on behalf of the Eurométropole. It carries out all post-preliminary design studies, the construction of structures and the delivery of works, the maintenance and replacement of infrastructure, equipment and vehicles (buses and trams).

The Eurométropole covers the annual investment costs committed to by CTS for the replacement of goods allocated to the concession (equipment and rolling stock) and for the financing of tram line extensions.

CTS finances the investments for which it is responsible and to do this has three sources of revenue:
• its own resources
• subsidies paid by the Eurométropole
• loans made to it by banking institutions.
---
CTS and the SNCF-Keolis grouping signed a partnership agreement for a five year duration coming into effect on 1 January 2013.
Under the terms of this contract, Keolis provides support to CTS in the following areas:
• experience sharing and feedback
• technical databases
• technical and service innovation
• communication and promotion
• supplier contracts.
---
Strasbourg Mobilités: developing soft mobility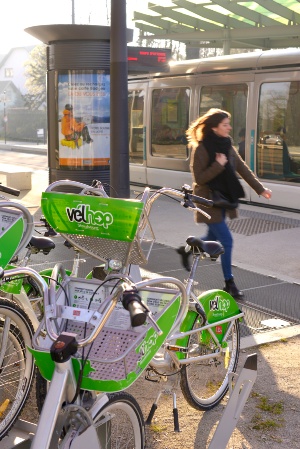 A 70%-owned subsidiary of CTS, Strasbourg Mobilités develops a range of soft modes of transport as a complement to urban public transport. A place for strategic thought and innovation, its capital is held by the main local stakeholders involved in urban mobility issues.
The company operates the self-hire bike service Vélhop comprising twenty automatic stations, five dedicated shops and a fleet of more than 5,500 bikes.
In spring 2014, together with CTS and CITIZ, Strasbourg Mobilités launched the Pass Mobilité. This travelcard offers users unlimited access to buses, trams, Vélhops, park-and-rides, bike parks and the carsharing service Citiz.
CTBR, inter-urban operator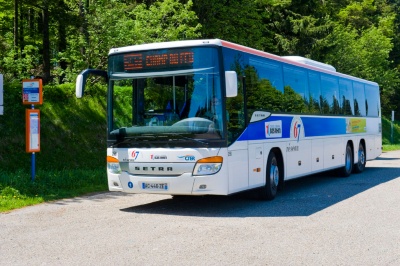 62%-owned by CTS, the Compagnie des Transports du Bas-Rhin operates 24 regional coach lines in the Strasbourg area. Some of these lines are operated by its other operator-shareholders: Striebig, Mugler and Transdev Alsace. Contractually linked to the Bas-Rhin Département Council via a concession contract running until 31 August 2018, CTBR also deploys and operates an automatic fare collection system on behalf of the département council.
---