Corona Crisis: New rules for the use of the CTS network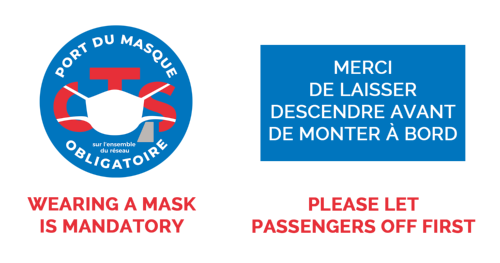 WEARING A MASK IS MANDATORY 
Since 11 May 2020, the wearing of masks has been mandatory for all travellers over the age of 11 on the network in France (from the age of 6 in Kehl, in Baden-Württemberg), both inside vehicles and at stopping points, in order to guarantee maximum safety for all. Checks will be carried out both inside the vehicles and at stopping points to ensure that the mask is worn correctly. Failure to comply with this new obligation will be subject to a fine.
In Germany, wearing FFP2, KN95 or N95 masks is strongly recommended. Surgical masks are accepted. Fabric masks are not allowed.
PHYSICAL DISTANCING
Passengers should ensure that as far as possible they maintain a distance between themselves both on board vehicles and at stopping points.
LET GO DOWN BEFORE GOING UP
Passengers are expected to ensure that they systematically allow passengers to disembark before boarding vehicles.
REINFORCED HYGIENE
Already very intensive since the beginning of the crisis, virucide cleaning of each of the vehicles will be carried out several times a day. Contact areas such as handrails and handles will continue to be cleaned particularly thoroughly.
AUTOMATIC DOOR OPENING
The doors of trams and buses will continue to be opened automatically by the drivers in order to limit the contact areas.
RESPECT ALL BARRIER GESTURES
The effectiveness of cleaning and disinfection also depends on strict compliance with the barrier rules by travellers, which can be found at https://www.gouvernement.fr/info-coronavirus.
ANTICIPATING THE PURCHASE OF TICKETS
The sale of Tickets secours on board buses remains suspended. Customers are invited to buy their tickets in advance from the CTS points of sale listed HERE. In particular, CTS invites its customers to discover or rediscover the services offered by its mobile app available on android and ios, in particular the possibility of acquiring "Immediate Departure" dematerialised transport tickets without any contact : more informations HERE.
OPENING OF THE CTS AGENCY, BUT ONLINE APPROACHES TO BE FAVOURED
The CTS sales office is open at the usual times from Monday to Friday from 8.30am to 7pm, and on Saturdays from 9am to 5pm. It is compulsory for customers to wear a mask.
Nevertheless, in order to limit contact and traffic, the CTS invites its customers to make their requests via the online agency, which can be found HERE.