Corona Crisis: Rules for the use of the CTS network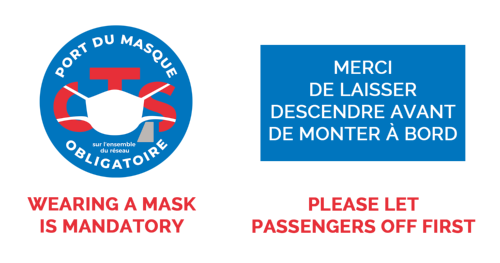 HEALTH PASS MANDATORY ON BOARD THE TRAM D IN KEHL
From Wednesday 24 November 2021, and for an indefinite period, customers travelling on the Tram D in Kehl will have to be in possession of a health pass.
The latter is not compulsory for schoolchildren under the age of 16. Please note, however, proof of schooling may be requested for young people aged 6 to 16.
Checks wil be made by the local authorities of the city of Kehl. 
WEARING A MASK IS MANDATORY 
The wearing of masks is mandatory for all travellers over the age of 6 on the CTS network, both inside vehicles and at stopping points, in order to guarantee maximum safety for all. Checks will be carried out both inside the vehicles and at stopping points to ensure that the mask is worn correctly. Failure to comply with this new obligation will be subject to a fine.
The mask must be worn properly and cover the entire nose and mouth, otherwise it is ineffective.
In Germany, wearing FFP2, KN95 or N95 masks is strongly recommended. Surgical masks are accepted. Fabric masks are not allowed.
LET GO DOWN BEFORE GOING UP
Passengers are expected to ensure that they systematically allow passengers to disembark before boarding vehicles.
REINFORCED HYGIENE
Already very intensive since the beginning of the crisis, virucide cleaning of each of the vehicles will be carried out several times a day. Contact areas such as handrails and handles will continue to be cleaned particularly thoroughly.
RESPECT ALL BARRIER GESTURES
The effectiveness of cleaning and disinfection also depends on strict compliance with the barrier rules by travellers, which can be found at https://www.gouvernement.fr/info-coronavirus.
OPENING OF THE CTS AGENCY, BUT ONLINE APPROACHES TO BE FAVOURED
The CTS sales office is open at the usual times from Monday to Friday from 8.30am to 7pm, and on Saturdays from 9am to 5pm. It is compulsory for customers to wear a mask.
Nevertheless, in order to limit contact and traffic, the CTS invites its customers to make their requests via the online agency, which can be found HERE.